London to New York (via Hong Kong, Macau, Tokyo and San Francisco)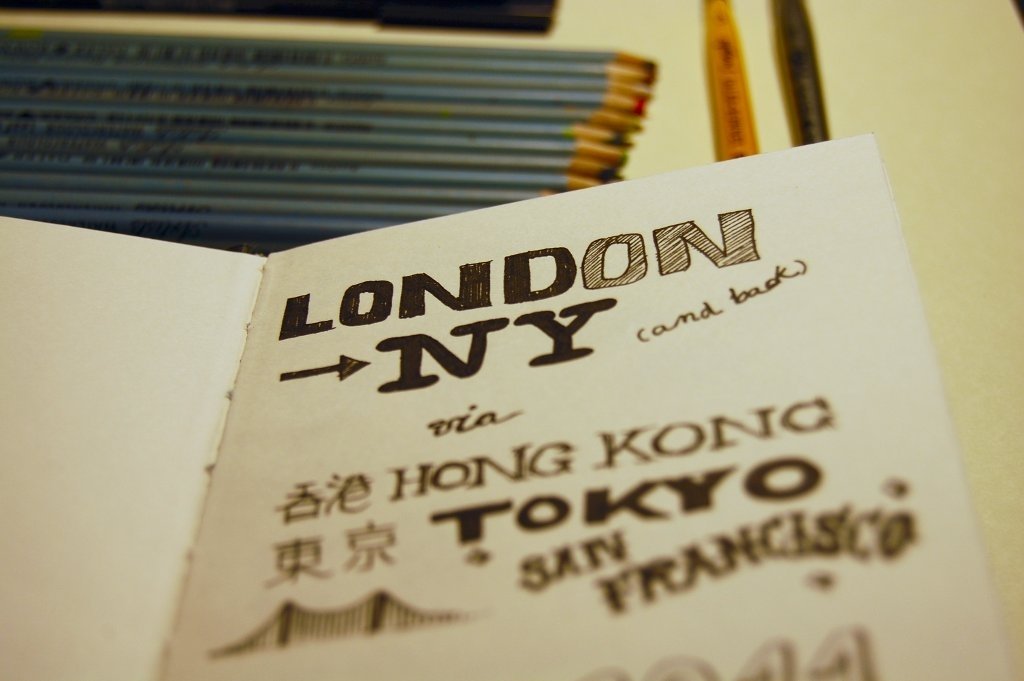 Read my sketchbook online! or buy it as an e-book from Amazon.com, Amazon UK, Amazon Germany, Amazon Spain or Amazon Italy.
Mr.doob and me spent from the 25th of April to the 15th of May of 2011 travelling around the world (literally). We flew from London, spent some days in Hong Kong, took a ferry to Macau and back, then spent almost a week in Tokyo, some more days in San Francisco, and finally reached New York, spent a couple of days there, and flew back to London, thus closing the circle by flying over the Atlantic.
One of the first things I decided upon when planning this extraordinary journey was that I would attempt to document it, not only with a camera as usual, but also with a graphic journal, to celebrate the first time I would travel around the world, Phileas Fogg style ;-) It would certainly be more personal and involved than simple pictures, and it would therefore be truly unique.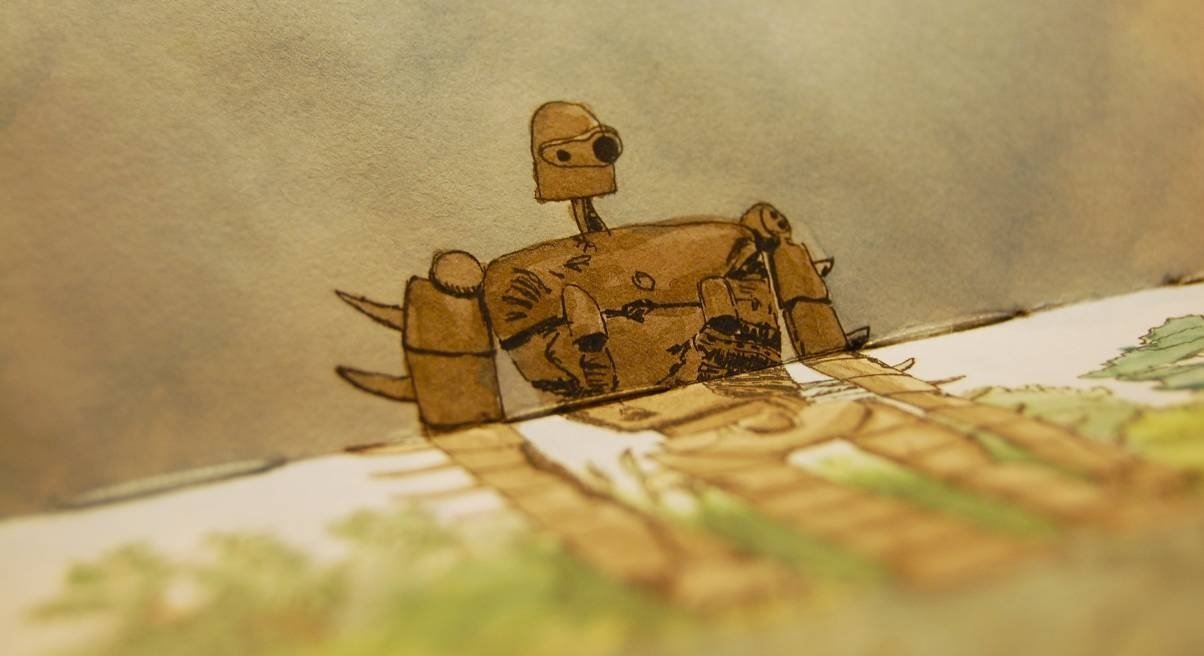 And truth to be said, I wasn't wrong at all with the last sentence. Since digital cameras and touch screen devices are so ubiquitous, the odd thing to do is to sit anywhere and draw or write in an analog medium such as an sketchbook. I got odd looks from people pretty much in every country! The most funny ones were the Hong Kongers: they were extremely curious, but at the same time tried to conceal their interest, which led to almost tragicomic situations when people almost stumbled upon street furniture such as a bench when trying to look like "not looking".
All in all it's an excellent way to truly appreciate the places you're visiting and the people you meet. Also, because you need to simplify and summarise, the completed sketchbook makes for an excellent way to tell your friends about your holidays, without subjecting them to the martyrdom of viewing thousands of pictures of your trip. So I totally recommend it! That--and don't be so overly analytic and detailed as I was when drawing. I personally will try to loosen up in future journo-sketches. We'll see what happens, though!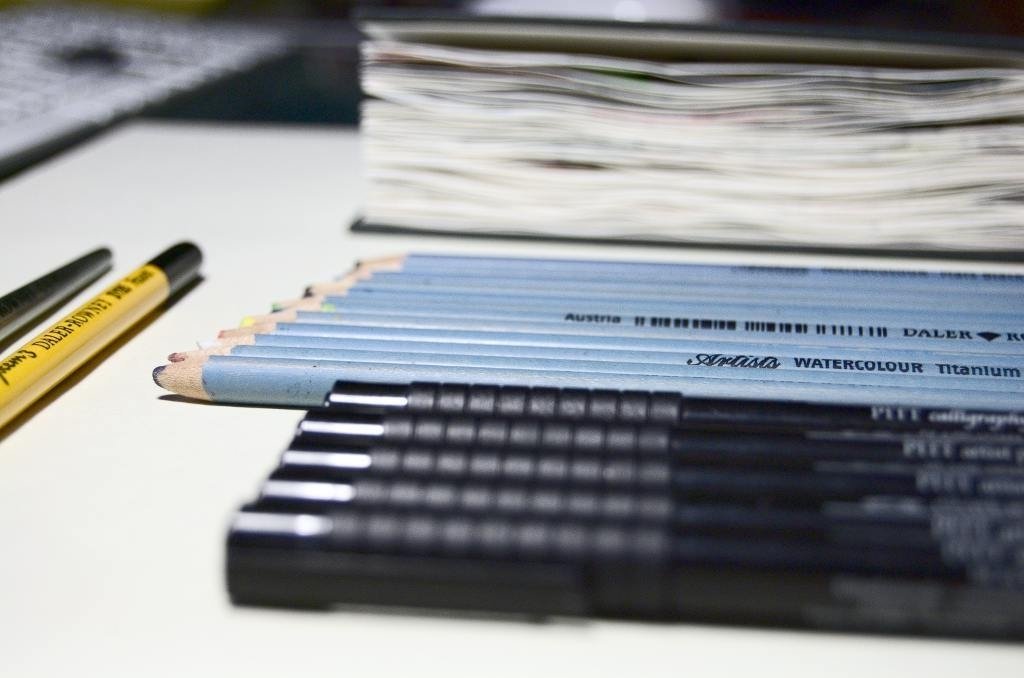 Things I learnt (through the experience)
Turns out I did overestimate my drawing ability, or at least my speed-drawing skills. I've just been re-learning to draw for a couple of years now and I thought myself capable of doing this on-location drawing thing easily. I was slightly wrong, as I had to leave blank pages and gaps sometimes and complete them later on the hotel, or simply when we were back home. In those cases I took pictures for reference sometimes; other times I drew from memory (and it surprised me how accurate it was!)
Another issue was my choice of materials. As it was a long journey, luggage space was a problem, so I tried to reduce and simplify my drawing tools. Out went the watercolour box, and in the watercolour pencils. The problem is, watercolour takes a very long time to dry, specially in humid places such as... Hong Kong, Macau or San Francisco (but specially Hong Kong), or maybe my technique uses too much water. (Later I have started using one of those fancy Pentel waterbrushes and I noticed that I use less water with it and drawings get dry quicker, so it might be the reason). I think I'll use some sort of simple markers in the future for colouring/shading when drawing on location, and leave colouring for when time is not a pricey good. Although it's a somehow romantic idea to think that there's a little bit of the places you've been in your journal when you paint using water from those places. You don't get that when using markers!
On the other hand, I'm glad the Faber Castell pens I chose were absolutely waterproof (yay!). There was no feathering when applying water to the paper after having done the linework, and the black is quite black generally, except for the "C" pen which is not as uniformly black as I'd like it to be. But it's the price you pay for convenience, I guess. I personally prefer using indian ink and my Leonard number 30 pen, but it's nowhere as portable as the pens!
I also noticed an interesting evolution in regards to line thickness: while at the beginning I was using the "F" pen (for Fine?), I ended up substituting it with the S (small) and even the XS (eXtra Small?) as the days passed. It seems as I was getting better with drawing I felt more confident to add more details.
Paperwise, I'm happy with the thickness and resistance of the sketchbook I got. It has a very nice book appearance with its cloth-cover, but there's an interesting issue I didn't think of when buying it: it's terribly difficult to scan it afterwards, as the spine is too strong to let go of the center of the book, so to speak, and the pages don't lie flat enough to scan them without the center appearing blurry. From now on I will carefully examine all potential sketchbooks to make sure they can be scanned easily!
Materials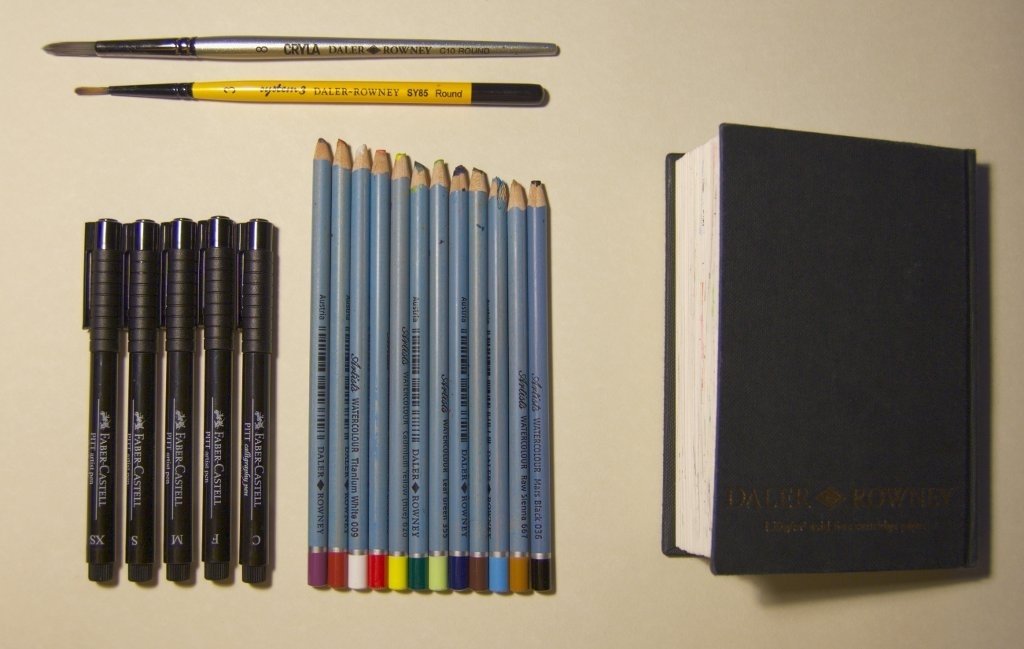 Faber-Castell waterproof artist pens (black, assorted sizes). A brush-tipped pen is missing but was also used on the journal. I lost it while drawing somewhere else :-(
Daler-Rowney watercolour pencils
Daler-Rowney artist's sketch book (62 pages, 105x149 mm, 150 g/m2)
Daler-Rowney brushes (small one for colouring, larger one for wetting the paper before applying colour)
Thanks
First and biggest thanks go to Mr.doob for this awesome trip! And also for being an excellent model for my comic-drawing attempts. He never complains (or at least not publicly!). I've also got to thank both Aaron Koblin and the guys from Larva Labs for getting me a ticket for the Google I/O. I am shamefully embarrassed that I didn't draw Matt and John from Larva, mostly due to a miscalculation on my part when alloting spaces and distributing "blanks" on the journal. But I will draw you, even if that means finding a picture of you in the internets. Watch out! ;-)
Finally, huge thanks to Lauren Cornell and Zoe Salditch from Rhizome for creating an incredibly rich event such as Seven on Seven and being such excellent hosts, and the culture guys from the Consulate General of Spain in New York. I am still delighted that I got to meet extraordinary people such as Camille, Erica, Michelle, Moot, Ben Cerveny but specially my geek-idol Jeri Ellsworth! That was in-cre-di-ble! Jeri is such a funny and intelligent person--I couldn't have enough of her creations and mad circuitry skills!